Description
---
This module is a dual channel Slew generator. In short, slew generators restrict changes in voltage. The most common use of this is to add portamento or glide to a fluctuating voltage. As with all Hungry Robot "Modular Boxes" the Slew can be powered with a simple 9V DC, Negative Center power supply.
---
Controls & Patch Points
---
KNOBS -SLEW KNOBS (x2): Adjusts the amount of slew on each channel. Max slew time is approximately 750ms (patch both channels together for 1500ms)
PATCH POINTS -IN (x2): Patch in the CV that you would like to add Slew or Portamento -OUT (x2): Patch this to where you would like the resulting Slewed CV to go
---
Technical Specs
---
Dimensions: 4.7" x 2.6" Power (Through Hole Units): 9V DC - Negative Center - 2.1mm Barrel Power (Surface Mount Units): 9V-12 DC - Negative Center - 2.1mm Barrel In the Spring of 2021, we transistioned to a new PCB design with a more efficient power circuit. This allowed for more flexibility in supply voltages. A quick look at the components under the back panel can determine which model you have.
---
Video Demonstrations
---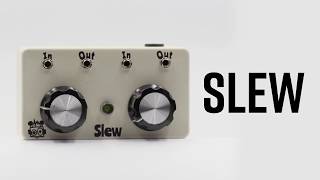 ---
---