Description
---
The 4 Channel Mixer is a basic DC coupled mixer with 4 inputs and 4 attenuators. DC coupled means that it will accept both DC and AC (Audio) signals. As with all Hungry Robot "Modular Boxes" the 4 Channel Mixer can be powered with a simple 9V DC, Negative Center power supply.
---
Controls & Patch Points
---
PATCH POINTS -IN (x4): Patch in any audio or CV signal to any of the 4 inputs. (NOTE: Avoid mixing CV and Audio) -OUT: This output is the sum of the four channels ​ KNOBS -LEVEL (x4): Each input has its own attenuator that allow you to bring down the level of the inputs
---
Technical Specs
---
Dimensions: 4.7" x 2.6" Power (Through Hole Units): 9V DC - Negative Center - 2.1mm Barrel Power (Surface Mount Units): 9V-12 DC - Negative Center - 2.1mm Barrel In the Spring of 2021, we transistioned to a new PCB design with a more efficient power circuit. This allowed for more flexibility in supply voltages. A quick look at the components under the back panel can determine which model you have.
---
Video Demonstrations
---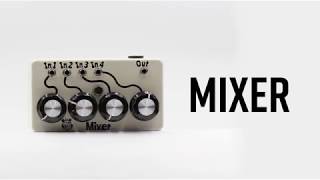 ---
---